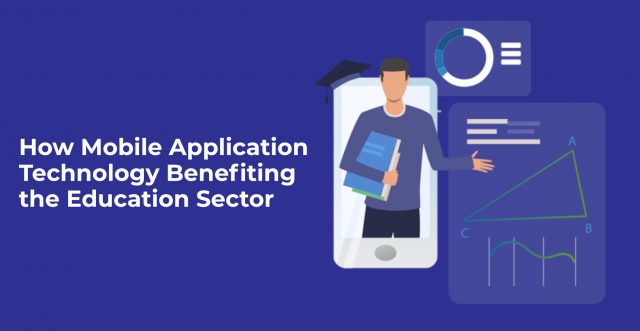 The technology has become a prominent part of daily lives, and the mobile app technology is reaching new highs of advancements and innovations. These recent progressions of mobile applications were also reflected in the education sector. Technology and learning used to be two different things but not anymore. Now technology has become the means of knowledge. So, mobile educational applications have become a massive part of the learning process.
The educational sector should bring a lot of changes in the way of teaching to cater to the new generation. As humans, we are continually evolving and updating ourselves according to the latest technologies, but our educational system is several years old, and we haven't changed anything about it.
Children who are starting school now will need more skill- sets and knowledge about the topics that don't even exist at this time. So with the growing demand for new and innovative learning, the conventional education system should be altered so those children can develop skill-sets needed for the future.
Also, the change is happening now. Many education-related applications are available in the app stores right now. With unique graphics and animation, these apps attract children to learn something new every day without feeling bored or repetitive. Due to recent pandemic, the digital classrooms were also made possible, and many students are studying from their home; this could be our new future.
Some Statistics
In recent times, both teachers and students are getting used to digital education; the traditional way of lectures is slowly evolving and becoming digital. In India, the educational applications are taking over tremendously, and both the parents and students are willing to pay for an educational app. A recent survey revealed that over 90 per cent of Indian students were willing to pay for an e-learning application. And, people in the age groups 18-25 were ready to download and pay for competitive exam preparation applications.
Impact of Mobile Technology in Educational System
The mobile educational applications are thriving in recent years, that's because everyone has easy access to smartphones and the internet more than ever. These apps benefit a lot of students who cannot be physically present in the classroom, and generally, there are fulfilled applications as well to discover new things.
Advantages of Mobile apps in Education
There several types of mobile applications which are learning-based and all of their purpose is to provide quality education for people of all ages. Here are some benefits of mobile technologies in education.
E-Books and E-Learning
There is no need to carry around the books and read anymore, with mobile applications any kind of books are available in your fingertips. The libraries were a great place for people to come and study together, but even online, there are book clubs and communities that help you study and learn together easily. The e-learning and e-books are top educational applications widely used by the people to acquire education and learning at anytime and anywhere.
No Time Limitations
Educational apps work very well for the students of this generation. Many students have different studying time and pattern, so these apps allow students to study whenever they want to. There is no time limit for people and students will have the freedom to explore and learn a lot more from these applications.
There might be several doubts and confusions when it comes to a subject, but most students hesitate to ask them in the classroom thinking it's just a dumb question, but with online applications, they can quickly clear all their doubts.
Unlimited Notes
Gone are the days where education was studying from a single textbook, and it doesn't work anymore if you really want to learn. But with mobile applications, there are extensive notes and study material that are available to the students, and they can learn new things and concepts from different perspectives.
In Conclusion, educational applications are an excellent investment, and they are the future for the educational system all around the world. These learning-based applications will go through a lot of changes in the coming years to create innovative and smart classroom learning for students through technology.
Author Bio:
MonishSinthala, the co-founder and CEO of Pyramidion Solutions, one of the well-established mobile app development companies. He is a pioneer in mobile app development and wants to bring modern and sophisticated advancements to the application development in the industry.